Considering the effects and risks of nuclear power and the currently still common fuels such as coal, oil, gas and wood for the generation of electrical energy and heat, the use of renewable energies is becoming increasingly important.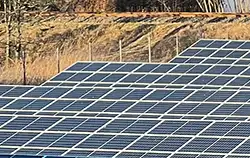 The technology for using the solar energy is now so well developed and widespread that the solar systems are often not only more environmentally friendly in production and operation than conventional energy generation in a long-term comparison, but also considerably less expensive.
Solar systems can basically be divided into thermal solar systems and photovoltaic systems. Whereas in thermal solar systems water is heated by the sun and then used for heating or hot water, photovoltaic systems generate electricity with the help of the photoelectric effect due to the sunlight.
To ensure that the modules of a solar system are positioned and aligned in the best possible way for the intended purpose, a special photovoltaic meter can be used to determine the solar radiation incident at the intended location during the planning phase. In cases where the mounting position cannot be freely selected, the possible solar yield for a specific module area can be calculated with the help of the radiation intensity determined by the Photovoltaic Meter. For the planners and installers of the solar systems, but also for the operators of larger systems, the photovoltaic meter is almost always a useful investment.